---
Jimmy Jay
https://linktr.ee/jimmyjayuk
Jimmy Jay
Tagged as: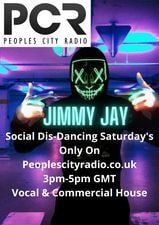 Aye up,
I'm Jimmy Jay the rookie of the PCR family but I have been involved in music most of my life from DJ'ing at House Parties, Weddings and even ventured abroad whilst working as an Entertainer for Thomas Cook back in the naughties.
Since March 2020 I have been posting public mixes and live streams on various platforms and now I'm in the company of some of the most talented DJ's around.
I will be live every Saturday right here on Peoples City Radio from 3-5pm GMT playing out Vocal and commercial House from the past present and future.
Get your favourite tipple on the go and let's all dance as one.
Music is Life and Life is Music
https://linktr.ee/jimmyjayuk
---
Read more
---